Is Microsoft going to have a promotion to sell Microsoft Office 2013 at an unbelievable price, just like what it did for Windows 8? If the price for Microsoft Office 2013 Professional which is now going on sale in Singapore is true and not a price error, the most premium edition of Office 2013 available for retail purchase is going for a ridiculous deal of about USD $4.10 (SGD $5.00).

Singapore users have been abuzz with sale of Microsoft Office 2013 Professional at just SGD $5.00 a license, which can be installed on 1 PC. In fact, early buyers who bought at SGD $5 a license have managed received the product keys and download link to Office 2013 Professional. And the product keys available seem to have run out, as new purchase get the message "processing serial number or unlock code" instead. Nonetheless, the sale still goes through.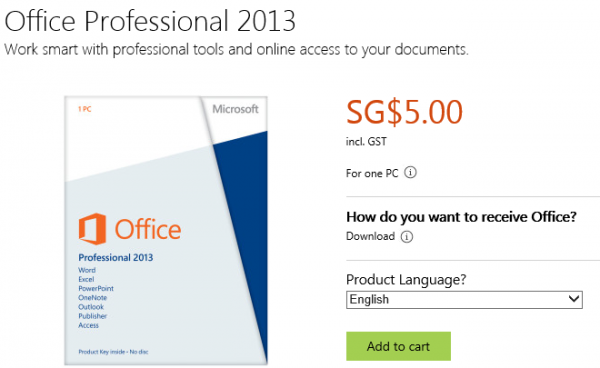 Microosft Office 2013 Professional includes almost all Office desktop applications, including Word, Excel, PowerPoint, OneNote, Outlook, Publisher, Access and InfoPath. And the license is good for commercial use too. The list price for Office 2013 Professional is USD $399.99.
If you want to try your luck in getting a license of cheap Office 2013 Professional, head to http://www.microsoftstore.com/store/mssg/en_SG/pdp/ThemeID.29256000/productID.260483500. You may need a Singapore address and credit card to complete the purchase.
Update: The product has since been removed by Microsoft.
Update: Apparently, other Microsoft Office 2013 suite products are also priced at SGD $5.00. So this is confirmed to be an pricing error by Microsoft. For those who interested, here's the Microsoft Store links:
Office Home and Student 2013
Office Home and Business 2013
Visio Professional 2013
Visio Standard 2013
Project Professional 2013
Project Standard 2013
And, it appears that even though you may get the product key, but retail version of Office 2013 cannot be activated yet until Office 2013 general availability.