Microsoft is offering upgrade version of Windows 8 Pro, the ultimate edition of upcoming Windows operating system, at a 'steal' pricing of $39.99. The price is more than 60% discount from the $99.99 Microsoft charged for upgrade version of Windows 7 Professional in the similar promo. And mind you, the Windows 7 offer was not even for top of the line edition, while Windows 8 is. In fact, $39.99 price tag is also $10 cheaper than the cheapest early-bird upgrade offer available for Windows 7, which was $49.99 upgrade license to Windows 7 Home Premium.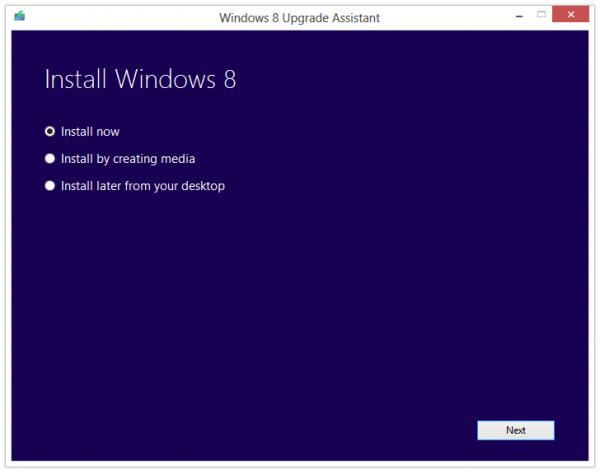 The $39.99 Windows 8 Pro upgrade promo is available for current users of Windows XP, Windows Vista, or Windows 7 in 131 markets. Furthermore, it includes Windows Media Center for free through "add features" option within Windows 8 Pro after the upgrade which is otherwise a paid option, according to Windows Team blog.
The upgrade promotion is available until January 31st, 2013.
During the promotion period, a packaged DVD version of the upgrade to Windows 8 Pro will be available for $69.99 at local retail stores, as an alternative to consumers who not favor the download-only option. With the download-only option, user can create own bootable USB or .ISO file to burn to CD for upgrade and backup purposes. Alternatively, a backup DVD can be ordered for $15 plus shipping and handling charges.
Unfortunately Microsoft does not make the cheap price for Windows 8 permanent. The offer also makes the price of Windows 8 upgrade within the touch of upgrade pricing of Mac OS X, which Apple is offering at $29.00 a license.
The Windows 8 Pro Upgrade promotion can be ordered online via windows.com when it's available.
For consumers who purchase new Windows 7 PCs through January 31, 2013, an even cheaper upgrade offer is available. They can purchase an upgrade version of Windows 8 Pro for $14.99 through windowsupgradeoffer.com.