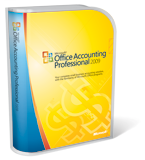 Microsoft Office Accounting, which formerly known as Small Business Accounting, was the Microsoft's accounting software answer to Intuit's QuickBooks, and was targeted towards small businesses that have between 1 and 25+ employees. Finally Microsoft has decided to focus on its core competency, and as the result, the Office Accounting product line is another financial and accounting related software which is dropped by Microsoft, besides Microsoft Money.

From November 16, 2009, Microsoft will stop selling and distributing all products under the Office Accounting umbrella brand in North America and the UK, including Office Accounting Express, Office Accounting Standard, Office Accounting Professional, Office Accounting Professional Plus, Office Accounting 3-user, and Small Business Accounting.
For existing customers of Office Accounting, Microsoft will continue to provide five years of mainstream support and five years of extended support after the product is released, in line with Microsoft's support policy.
Unlike Microsoft Money, which free download wasn't available, Microsoft Office Accounting Express is a freeware, and available for free download by everybody. But the download will be cut off from November 16, 2009, where existing customer can only request lost license product key and software download by submit manual form to resend confirmation email. So those who interested to use Office Accounting product should download, install and activate either Office Accounting Express 2009, or Office Accounting Professional 2009, which available as free upgrade to earlier version of Office Accounting paid license.
Customers who recently bought the Office Accounting 2009 but decided that an abandoned application is not the way to go can return the purchase. The return policy is 30 days from time of purchase. However, the backup CD and any shipping charges are non-refundable.
More details about Office Accounting discontinuation can be read at http://www.ideawins.com/FAQsDiscontinuation.aspx.