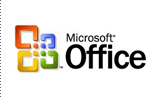 Other than free download of Microsoft Office 2007 products and suites that targets OEM (Original Equipment Manufacture) and retail market, Microsoft also releases Microsoft Office Enterprise 2007 for free 60-days trial download for evaluation by IT professionals and developers. Office 2007 Enterprise edition is the most complete suite of Office 2007 with various toolset for teams to collect, organize, collaborate, and share critical information across geographic or organizational boundaries efficiently on network. Enterprise edition effectively is Office Professional Plus 2007 (with almost all usual suspects – Word, Excel, Access, PowerPoint, Publisher, Outlook and etc) added with Office Groove 2007 and Office OneNote 2007.

One advantage of Microsoft Office Enterprise 2007 suite is the ability to bypass and skip product activation process if a volume licensing key (VLK) is provided. In fact, the suite is activated immediately straight away after accepted a VLK product key, without prompting activation wizard.
The trial version of Microsoft Office Enterprise 2007 only valid for 60 days period, after which it will go into reduced functionality mode, or 'read-only' mode with editing, replying, creating, saving and other main features disabled. But users can enter a valid product key to convert and activate the trial version to final version without reinstalling the software.
Microsoft Office Enterprise 2007 can be downloaded from Microsoft TechNet Trial Software Center (for IT professionals) and MSDN Evaluation Center (for developers) where you will be supplied with an Enterprise evaluation product key valid for 60 days. Windows Live ID or Microsoft Passport account is required to obtain the product key, and you require to provide various profile, contact and billing information. If you feel uncomfortable to provide such information, you can download the Office 2007 Enterprise installer setup file directly from Microsoft Download Center, or check out direct download link for Office 2007 to start download straight away.