Microsoft has announced the launch of its new SideWinder X4 Keyboard, which features an advanced anti-ghosting technology that provides gamers control of up to 26 keys at once without ghosting, giving gamers more control over their gaming experience to keep game in action.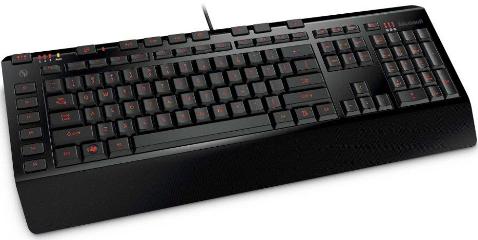 "We're always looking for new and novel ways to enhance people's interactions with their PCs," said Steven Bathiche, research manager for Applied Sciences Group at Microsoft. "We know that ghosting can be a problem for gamers, so we wanted to develop a way to eliminate this issue and improve the overall gaming experience, and we've succeeded with the new anti-ghosting technology in the SideWinder X4 Keyboard."
Key Features of Microsoft SideWinder X4:
Advanced anti-ghosting technology (developed by Applied Sciences Group) recognizes gamers' complex key combinations (up to 26 keys)
Mode switching manually toggle the keyboard from standard mode to either of 2 gaming modes
Automatic profile switching offers an easy ways to apply your custom profile for different games
New automatic macro repetition lets users repeat the macro over and over as needed with 1 key
In-game Macro Record button recording any sequence of keystrokes
Switch among 3 banks of 6 programmable macro keys to assign up to 18 macros per profile
Microsoft SideWinder X4 gaming keyboard with adjustable backlighting is scheduled to hit the market in coming March 2010 for around $60.