Microsoft announce 3rd generation of Zune MP3 player, which offers a new 120GB hardware model and a 16GB flash model in new blue-on-silver and all-black color schemes.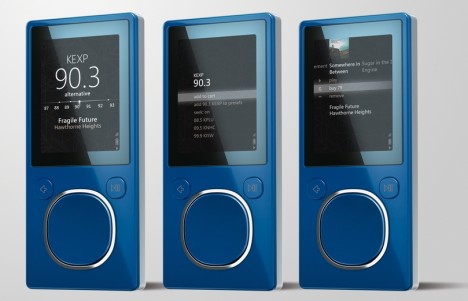 The new Zune MP3 players offers customer innovative ways to discover music. Zune integrates an FM tuner, which is not offered by Apple iPods. With that, Zune offers new "Buy from FM" ability by using its tuner and built-in wireless connectivity.If you hear a terrific song on the radio but does not know the title and artist, the "Buy from FM" tracks it down easily. What you need to do is to make a tag on the song, enter a Wi-Fi hotspot, and immediately purchase and download the song. If Wi-Fi signal is not available, Zune will queue the songs that has been tagged and download later.
Another new feature offered by Zune 3.0 software is MixView, which gives the ability to generate playlists automatically. For example, if an album or artist is picked in MixView, images of related content will blossom around. Click on one of the surrounding images will give a new display. Double-clicking on the image will play the full song and availble for purchase. Furthermore, images of like-minded listeners from the Zune Social community will also pop up along with the recommended music, an element that Apple iPods Genius lacks of.
Unfortunately, the cool features of "Buy from FM" and "MixView" (full version) are only available to Zune Pass subscribers which costs $15 per month. Nonsubscribers can use MixView to hear only 30 seconds of the song. For nonsubcribers, a new section in the Zune marketplace called "Picks" will suggests albums, artists, and tracks based on music the user has been listening to in order to keep user up-to-date on new songs from favorite artists.
The models will becomes available in market on September 16. Zune 3.0 media player software for Windows will be available for download that same day, and will work with all generations of Zunes. The 120GB Zune is sold for $250, the same price as Apple's new 120GB player.
New firmware features will include option to tag and "buy songs from FM radio".
New Zune games become available including free Hexic and Texas Hold Em.
New support for Audible formatted media, download audiobooks for Zune.
A new blue zune color for Zune 8 flash players. It appears the Zune 120 and 16 are only in black.
New wireless option to download and buy songs from Zune Marketplace at Wi-Fi hot spots.
Update: Zune HD