You may have heard of Microvision as the company is famous in developing Pico Projector targeted with either as a standalone portable device or being integrated into mobile device such as the collaboration effort with Motorola. In order to continue demonstrating its leadership in this field, the company has recently unveiled a next generation high end Laser Pico Projector that is claimed to be the world's first that is able to scale and support up to 720HD resolution suitable to be used in multimedia and other usages.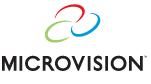 Being designed in compact form factor as similar to its existing product lines, the new Pico projector utilizes proprietary HD PicoP display engine that can output 15 lumens of brightness uniformity while able to project vivid colors at 720p 1280 x 720 resolutions, which is around 200% greater than conventional broadcast TV channels. Other specifications include the 5000:1 contrast ratio, infinite focus, wide throw angle and many more that makes it the industry first HD pico projector product in the market. Good thing is, all these features are well designed with low power thermal envelope in mind for extended usage with true mobility, thanks to its built-in high optical efficiency as compared to other competitors' solutions.
According to its spokesperson, the company plans to demonstrate this new HD capable pico projector during the upcoming The Society For Information Display annual conference held at Washington State Convention Center in Seattle, Washington on May 25-27th. No pricing information yet, the device will be commercialized by the second half of 2011.