Man's life is very much hooked up with electronic gadgets nowadays. One common problem with too many gadgets around is in recharging these gadgets. If you are a frequent traveler who always flies from one country to another, surely you will understand the pain where your charger cannot be used in some countries due to the different electrical output. You can't access important information as the battery is running flat. To assist frequent travelers or globetrotters to overcome this practical problem, the famous pocket projector manufacturer, BeamBox, has added another mini lifestyle product, Mili Universal Charger, to their list.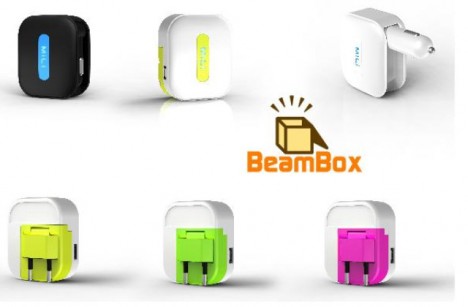 Mili Universal Charger is a mini, compact and practical universal charger which comes with four interchangeable adapters that can enable users to use it without problem in UK, US, Australia and Europe. The adapters suit the US, UK, EU or Australian-style sockets. Besides supporting various socket formats, Mili Universal Charger also allows users to charge their gadget in the car via a car charger adapter that comes along with it. Users can just plug the charger into the cigarette lighter socket to do the charging work. Another interesting feature of the BeamBox's Mili Universal Charger is the dual USB port which allows users to charge two devices at the same time. Users will be notified when their devices are fully charged by a change of colour in the two LEDs mounted.
For a mere $28.50, users can get the universal charger with a choice of nine different colors: blue, purple, green, yellow, and orange.