Previously we mentioned about DisplayLink Technology integration into Sony Vaio Docking station that simplify the whole system setup for laptop users, now it seems that the similar concept has been applied to LCD monitor itself. Mitsubishi, a famous Japanese electronics manufacturer has just announced the availability of a first wide screen LCD designed with this innovative idea. Known as RDT201WDL, it is the first 20.1-inch wide screen LCD monitor embedded with DisplayLink technology targeted for laptop users in consumer market.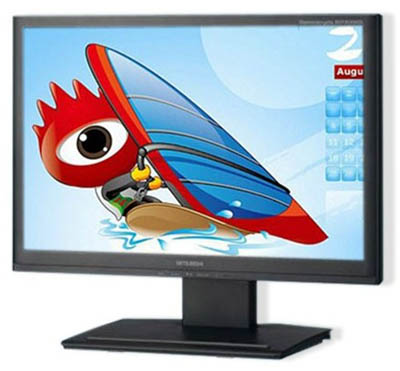 Displaylink Technology relies very much on its powerful and proprietary graphics solution through USB interface. Besides capability of able to scale up display resolution to 1680 X 1050, its easy plug-and-play capability has able to ease up the whole system setup without the need to look for bulky VGA or DVI cables. To make the LCD even more powerful, it has both USB hub and Ethernet module built into the LCD panel itself that enable end users to just plug all the peripherals such as keyboard, mouse and etc into it for fast and simple setup. Just imagine, users can now connect their laptop to LCD monitor through a USB cable while able to enjoy a true desktop browsing experience without worrying about the rest of messy connectivity of the LCD monitor and other peripherals. Most importantly, the system is claimed to be very high power efficient that can significantly reduce the energy wastage up to 36 percent as compared to traditional LCD monitors.
No price information at this moment, the product will be made available to Japan consumers first anytime from now.