iPhone and iPhone 3G phone has gained global popularity phenomenon despite seriously lack and missing some useful features that common on most other mobile phone, such as tether as modem and MMS (Multimedia Messaging Service). MMS is an extension to SMS text message which allows longer message lenght and using WAP to display the content, and is commonly used to send messages with multimedia objects such as images, audio, video and rich text.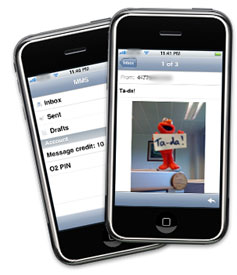 iPhone does not provide MMS feature by default. But now iPhone users in UK now has access to a new application which aptly named as MMS Photo Messaging, to add and support MMS feature on iPhone. The MMS Photo Messaging app is developed by Ross McKillop and Ed Lea is available, is previously web-based iPhoneMMS.net on O2mms.net, and with caveat emptor, is available for free download Apple App Store as native application.
Features of MMS Photo Messaging:
View already-retrieved MMS messages when offline.
Send MMS messages without the need to use Mail.app.
Uses iPhone address book to display senders' names.
Using MMS Photo Messaging is easy, simply launch the MMS application and the app will prompt for O2 Mobile Number and PIN. The application will then activate by verifying the phone number and retrieving your MMS messages from O2. Receiving MMS is free, however, application developer charges £3.79 for 10 MMS, or 38p per MMS messages sent, where the credit can be purchased in the app or topup online at http://iphonemms.net/topup/.
Download MMS Photo Messaging with iTunes. It currently only support UK iPhone on O2 UK network.
Alternatively, use SwirlyMMS, which only costs a one time payment of $8, but requires iPhone to be jailbroken.