MMS (Multimedia Messaging Service) is the enhanced sibling of SMS (Short Messaging Service, which more commonly known as simply text message) which allows longer length of message with attached multimedia contents such as image, photo, audio and rich text to be transmitted and delivered on the mobile carrier network. Unfortunately, iPhone and iPhone 3G are lacking such picture messaging capability on its phone.

Two developers in UK has create MMS Photo Messaging app for UK O2's iPhone users, but iPhone owners on other countries or cellular carriers are not out of luck. Other than using email to sent to free email to SMS gateway provided by service providers, another native iPhone app, SwirlyMMS is also available to support sending and receiving of MMS on iPhone.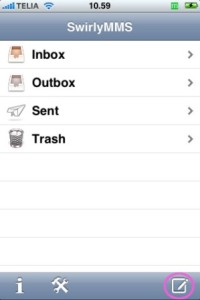 SwirlyMMS is a native MMS application for the iPhone and is the de-facto standard for sending and receiving MMS on the iPhone to and from any cell phone, just like when using any other brands and types of cellphone. Features of SwirlyMMS include:
Sending and reception of MMSs consisting of pictures, video, audio and text.
Buit-in media viewer.
Animated GIFs.
User controlled resizing of pictures sent
UserAgent emulation (in addition to the native iPhone also: Motorola V360, Nokia N73, Nokia N95, SonyEricsson W800i, and Samsung Black Jack 2).
Built in FAQ.
Built in Camera.
Separate folders for received (Inbox), sent (Sent) and erased (Trash) MMSs.
MMS settings wizard, which allows for automatic configuration of your MMS settings, much easier and faster than the old, classic OTA method (receive settings via an SMS).
Possibility to receive automatic OTA (Over The Air) settings.
Up to 10 different media parts when composing a new MMS.
Up to 50 different media parts in a received MMS.
Address book integration.
Possibility to browse the iPhone file system and include any file when composing a new MMS.
Possibility to save individual media parts anywhere on the iPhone file system.
Reply to sender, or forward the message.
Send to multiple recipients.
Save an MMS media part image to your camera roll (/var/mobile/Media/DCIM/100APPLE) and view it with the Photo or Camera application.
When composing an MMS with several media parts, you can easily rearrange and remove any part.
Unfortunately, SwirlyMMS is not available on Apple AppStore. That means if you want to download, install and use Swirly MMS on your iPhone, you have to jailbreak the iPhone with the like of QuickPwn or PwnageTool. Both jailbroken 2G and 3G iPhones are supported.
SwirlyMMS can be downlaoded and installed via Cydia installer Featured Packages, the installation program that comes with the jailbreak. After installing, user just need to configure the MMS settings, and the iPhone is set ready to send and receive MMS.
SwirlyMMS is a commercial application though, but costs of purchase is only $8. 14 days trial is available. All demo license and full unlock license can be acquired directly from SwirlyMMS program interface. The guide to download, install, configure and buy SwirlyMMS is available at swirlyspace.com.