The leading maker of integrated wireless peripherals for the mobile lifestyle, Newton Peripherals LLC has announced that its highly-popular MoGo Talk for iPhone, which the company claims as the world's only Bluetooth headset that docks with a low-profile iPhone 3G/3GS protective case in an ultra-thin (5 millimeters) design.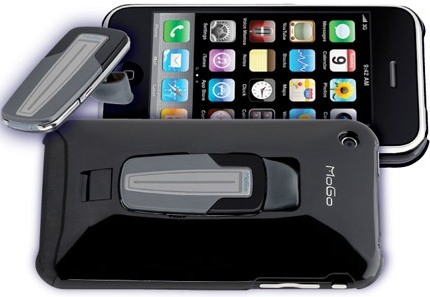 Key Features Of MoGo Talk Headset:
Comfort fit Soundshape ear tips that flex-form to the inner ear as well as silence ambient noise
SmartAudio Speech Enhancement and SoundMonitor in ear audio technology ensuring crystal clear conversations
Apple Voice Control lets users interact and control the iPhone with your voice via the MoGo Talk headset (iPhone 3GS only)
Echo Suppression and Active Noise compensation
Talk time: up to 4 hours ; Standby time: up to 7 days
"MoGo Talk was a top selling iPhone accessory in the U.S. over the 2009 holiday season and soon all of Europe can experience MoGo Talk through The Apple Store," said Stuart Nixdorff, CEO for Newton Peripherals. "We are confident that iPhone users across Europe will appreciate how the MoGo Talk extends Apple's clean, life-simplifying design philosophy to a companion Bluetooth headset."
Unique Features Of MoGo Dock Protective iPhone Case:
Low-profile lightweight design
Protects back and sides of iPhone from scratches and low velocity impact
MoGo Talk headset docks seamlessly and securely on the back of your iPhone for added convenient
Easy charging in the case via Micro USB port
MoGo Talk for iPhone which measures 24 X 50 X 5 mm and weights just 9 grams will hit UK, Spain, France, Germany, Ireland, Italy, Switzerland, Belgium, Denmark, Luxembourg, Netherlands, Austria, Portugal, Norway, Sweden and Finland market by late February 2010 for 119 Euros or 99 GBP through The Apple Store Europe by late February 2010.