There should always be no compromising when it comes to security particularly in protecting your beloved family members. In view of the increasing crime rate in petty theft, vandalism and burglary, the Swann DVR4-2500 Home Security System with four cameras can be the extra eyes and ears to give your house close monitoring all the time even when you are away.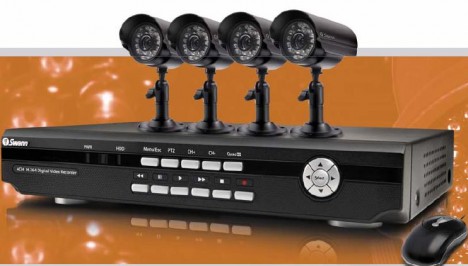 The Swann DVR4-2500 Home Security System comes with four high quality security video cameras (PRO-555™ CCD Camera), a remote control and a 4 Channel Digital Video Recorder with pre-installed 500GB HDD (DVR4-2500). With this security system, users can enjoy a wider coverage with 4 security cameras to record, monitor and trace back any suspicious activities around their property. Users can make recording continuously for up to 30 days. The high quality security PRO-555™ CCD camera with the assistance of infrared LEDs mounted to it can capture super clear images up to 50ft / 15m away even in night vision. Unlike other security systems, the Swann DVR4-2500 security system offers iPhone users the ability to stream live and view all four cameras via a free iPhone app with their 3G iPhone. iPhone users can do checking or monitoring on their property in real time even when they are away.
The Swann DVR4-2500 Home Security System costs $699.99 and it is suitable for home or small business office surveillance purposes. Below is a summary of the system features:
High quality video cameras with state-of-the-art 420 TV line CCD resolution
State-of-the-art night vision captures high-image clarity up to 50ft (15m) away
Input all 4 cameras at once for a total comprehensive security solution
View & record 4 channels simultaneously so you won't miss any suspicious activity
VGA connection lets you view on your PC to record or store footage
Easily connects to any TV for additional viewing capabilities
Equipped with remote viewing software to stream over the web remotely
Lets you "set & forget" by recording continuously from all 4 cameras for over 30 days
Durable, all-weather aluminium camera housing protects what's inside
Cutting-edge H.264 recording technology means less storage needed & higher image quality
Professional security solution for home or business at a fraction of the price with no ongoing monthly fees
View all four cameras in live mode with a downloadable 3G iPhone 'app'.