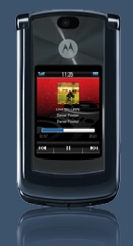 After the launching of the next-generation model of its most popular and ultra-slim Razr mobile phone in May, Motorola began officially selling its Razr2 phone in South Korea last Friday. Razr 2 enthusiasts can get one in South Korea now before its official global launch scheduled in July!
Why is South Korea chosen to get the first crack at the phone? The world's second largest handset maker by sales explained that Korean consumers are more "tech-savvy" and "fashion-aware". This new phone is retailed at about 580,000 Korean won or $630.

Motorola's Razr cell phone series had boasted excellent performance and sold nearly 100 million units. Razr2 features better functions and has a slimmer frame, larger screen and better call quality compared to Razr. Can Razr 2 be the successor of Razr and even outperform it? That's the million-dollar question.