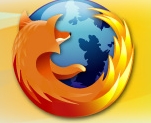 Mozilla released its next generation Firefox browser, Firefox 3 Beta 3 lately as expected. This latest update version on Firefox browser has shown more than 1,300 improvements from its previous version, Firefox 3 Beta 2. Even though Firefox 3 Beta 3 was released mainly for web developers to test and feedback to Mozilla on the problems for the final version of Firefox 3, many users and developers who have tested it are extremely excited on this web browser.

Mozilla in its release statement revealed that the major changes in Firefox 3 Beta 3 are focus on the improvements and enhancements to the users interface, ease-of-use, stability, memory usage, performance and security aspects of the web browser. Firefox 3 Beta 3 presented a more Vista-like interface with new icons and themes. The Firefox menus display with Vista's native themes. Users who are running on Vista also can access a combined back-forward button and star icon which allows users to add a bookmark with a single click. Users can also find a new Download Manager in Beta 3. This new Download manager makes the process to locate files and identify the source of the download become much easier. Besides, the media playback tools now also support podcasts and videocasts. In Beta 3, the password management feature has also improved. An information bar has been created to replace the old password dialog so users can now save passwords after a successful login.
In term of security, Firefox 3 Beta 3 now features "one-click site info". Users can click the site favicon in the location bar to see who owns the site and to check if users' connection is protected from eavesdropping. The browser also alerts users when they arrive on sites that are known to install malware. Additionally, beta 3 also supports Vista's parental controls feature.
Users can read more on the release statement from Mozilla for Firefox 3 Beta 3 and download the Firefox 3 Beta 3.
Update: Firefox 3 Beta 4 released.