Tapping into the advantage of its flagship nickel metal hydride battery, eneloop, the Japanese electronics manufacturer, Sanyo, has brought to consumers the rather interesting Eneloop Lamp. Powered by 2 AA-size Eneloop batteries, the unique vase-shaped Eneloop lamp (model: ENL-Y1S(W) is stylish and offers a variety of flexibility to users. Users can place it on the stand to use as a table lamp or use it as a flashlight. When placed on the stand, users are given the choice of either switching on the white light or blue light. The white light will light up the room for better clarity while the blue light will create a calming atmosphere to relieve stress.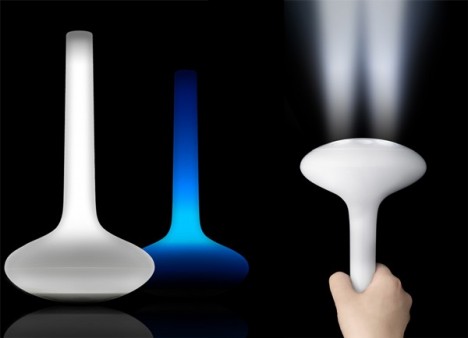 The two AA eneloop batteries are able to power the lamp for 3 to 45 hours of white light (depending on the brightness intensity), 12 to 16 hours of blue light, and 6 hours in flashlight mode. The batteries can be recharged by simply putting the eneloop lamp on a non-metallic charging stand to have contactless charging.
The powerful eneloop lamp is priced around ¥15,000 (US$156) and will initially be available in Japan only.