The market leader in technology and products for hard-disk based HTPCs, portable media-centers and high-definition digital signage players, MvixUSA has announced its new HD (1080p) HDD-based home theater media center – Mvix Ultio Pro (MX-880HD), which features an unprecedented full HD 1080p media compatibility and PVR (personal video recording) capability, aiming to enrich your home entertainment experience.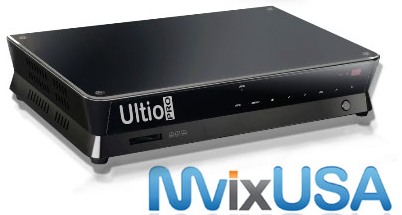 "Mvix Ultio Pro is the amalgamation of high definition media playback and recording. We've been working on the personal video recording (PVR) technology for some time and we're happy to combine HD media playback and recording in a single device that should serve as the ultimate solution for home entertainments and business videos," commented Mike Mallon, VP for Business Development at Mvix. "Our aggressive pricing structure with a comprehensive set of features is likely to set highest standards in high definition entertainment."
Key Features Of Mvix Ultio Pro:
Full HD (1080p) media decoding technology supports a variety of popular HD video codecs including H.264, MKV, Dixv HD, MPEG 2-TS, VC-1, WMV and so forth
PVR (Personal Video Recording) allows analog recording of TV shows from the Cable or Satellite, or family videos from a camcorder, supporting time-shift and scheduled recording
Flexibility, scalability and portability of the Ultio Pro making it easy to play HD movies or home videos
Built-in Torrent Client combined with NAS features giving an ideal setup for digital media acquisition, storage and sharing
Ethernet (RJ45) connection and optional wireless-N connectivity. Featuring samba server and UPnP implementation to allow seamless integration with services like PlayOn or Tversi (stream video content from Netflix, Hulu, CBS, Youtube, CNN, ESPN and etc)
Manage an entire media collection from the comfort of living room via remote control
"We are excited to launch this new product in the new year," added by Mike. "This is our most comprehensive product to-date and we feel very confident about its market traction. In reality this new model is built by our valued customers – each feature on this device is an outcome of customer feedback on our older models."
Mvix Ultio Pro will be available in 2 flavors – regular version without a HDD and premium version bundled with 2TB HDD, scheduled to hit Amazon.com, Buy.com, Thinkgeek.com, B&H Photo Video.com and Mvix's online store in coming February for $169 and $348, respectively.