One of the storage industry's pioneers and long-time leaders, Western Digital (WD) has launched its new ultra-portable My Passport Elite portable hard drives, which feature a convenient USB dock for storage on the go, as well as illuminated capacity gauge and drive lock indicator that let users check at-a glance how much space is left and whether their data is secure or not.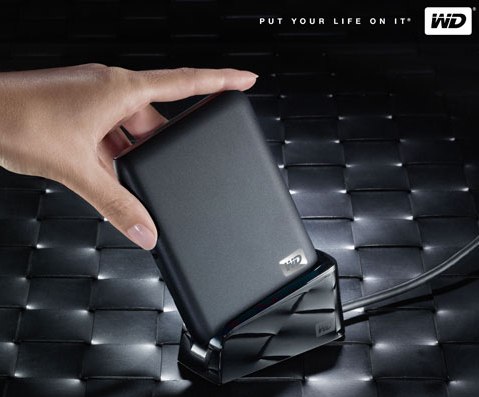 Highlights Of WD's My Passport Elite:
Convenient grab-and-go USB dock frees up valuable desk space, eliminating the search for empty USB ports
WD SmartWare software – A visual control center with a single screen view of all your data
Powers the drive directly from the USB port, without the need of separate power supply
256-bit hardware-based encryption protects data from unauthorized access
Ready to plug-and-play with Windows PCs and formatted NTFS
Available in Metallic Red, Metallic Blue and Charcoal Metallic colors
Dimensions: 0.60 x 4.3 x 3.2 inches ; Weight: 0.39 pounds
"As portable hard drives grow in capacity, consumers are now able to store their entire digital lives on them. Keeping users' content secure as well as stylish are two aspects that make My Passport Elite drives our most personal storage devices yet," commented Dale Pistilli, vice president of marketing for WD's branded products group. "Equipped with WD SmartWare software and hardware-based encryption, WD's new My Passport Elite drives keep consumers' personal content safe in one place, while the sleek design and premium finishes infuse a sense of personal style."
The new WD My Passport Elite external HDD that offered in 3 variants of memory capacities – 320GB, 500GB and 640GB, are now available for approximately $120, $160 and $170, respectively.