To make your social networking site, Facebook, more interactive and to add a personal touch, Arimaz has brought to Facebook enthusiasts a tiny adorable robot penguin, MyDeskFriend. Complimented as a "social-media companion", the Arimaz's MyDeskFriend little robot penguin can be integrated into users' Facebook profile and communicate with users on Facebook. For instance, this adorable penguin will alert users when there are friends logged in, to read messages and emails, poke friends, alerts users for notification, etc.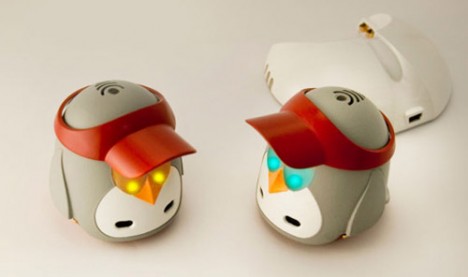 The cutie MyDeskFriend penguin has five different moods and the mood is indicated by the color of the penguin's eye. If the eyes turn red, it means the little one is getting pissed off because you do not treat it properly. You can play with the little penguin to keep it in a happy mood. To add fun to it, users' other Facebook friends also can take part and play with the little penguin via a Facebook gameplay interface. This little penguin can roll around on users' desk. Users do not need to worry the little gadget will fall off from the desk as it comes with infrared sensors to prevent it from falling.
Generally MyDeskFriend penguin provides more fun to Facebook users when they are accessing their account. Apart from that, it doesn't really have any other practical functions. Facebook enthusiasts can look forward to this tiny device which will be launched in September at the price of $99.