Intel Atom processor is monopolizing in netbook market and if you wonder what other usage models that can be extended from the existing market segment, let's take a look on the next generation Netbook equipped with tablet PC feature sets. Named as Nav 9, it is an Intel Atom N270 based tablet PC that being designed to compete against upcoming Apple' iPad tablet PC in this competitive market space.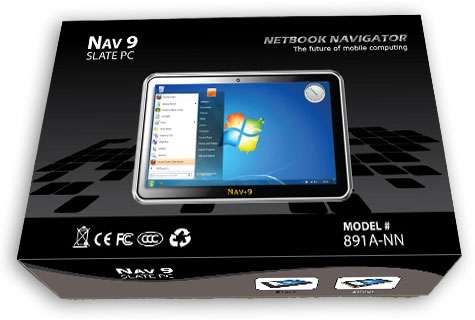 Being built with a 8.9-inch multi-touch LCD display with 1024 x 600 resolutions embedded into a 10 x 6.6 x 0.8-inches sleek and stylish chassis, it is intended to provide a much efficient way of controlling and navigation as a differentiation to conventional netbook designs. Internally the machine is powered by Intel Atom N270 running at 1.66GHz and further back up by a 2GB memory RAM and 16GB SSD (upgradable up to 128GB), Nav 9 is suitable for normal office application on top of other mobile usages. Some other specifications include an expandable SD memory card slot, 3 USB ports, Sim card slot, WLAN Wi-Fi, Bluetooth as well as optional 3G module for seamless internet connectivity for frequent travelers.
While one of its major selling points is multi-touch capability, but currently there seems to be some issues with its multi-touch screen which is under rectification with a new batch of touch screen module. However, its suggested retail price of $599 seems to be quite high (even after price reduction) and at about $100 more expensive than the entry level iPad, it may have hard time trying to fit into consumers' budget without other cutting edge technologies in place.