The leading designer and provider of innovative desktop LCD displays, professional-grade large-screen LCD and plasma displays, NEC Display has recently announced the launch of its latest 52-inch full HD LCD display with ultra-thin bezel (19 mm) – MultiSync LCD5220, which the company claims as the industry's first professional-grade panel display.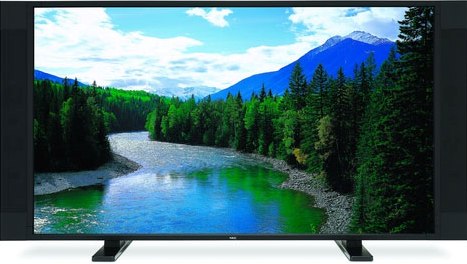 Features Of New NEC MultiSync LCD5220:
Professional-grade LCD panel and components for the most formidable digital signage industry requirements
1920 x 1080 full-HD, ultra-high resolution for true 16:9 aspect ratio, brightness of 700 cd/m2, and contrast ratio of 2000:1
HD-capable display, which supports 1080p, 1080i, 720p, 480p, and 480i standards
Ultra-thin bezel with 8-millisecond response time to minimize motion artifacts
U-shaped backlight system, which leads to better brightness uniformity and uniform dissipation of heat
Sealed module, which prevents smoke, dust and other contaminants from breaching the display
TileMatrix, which enables video walls (up to 25 displays in a 5×5 matrix equaling almost 20-ft. diagonal)
SpectraView II Color Calibration Solution, which ensures color uniformity and fidelity across individual and multiple screens, creating a perfectly matched image in tiled environments
Improved CableComp+ technology, which equalizes the video signal to reduce color distortion and improve sharpness for both analog and digital connections on long cable runs
Rapid Response technology, which delivers virtually uninterrupted, undistorted viewing of high-speed, full-motion video
"The new 52-inch display is a top performer and should be considered anywhere high brightness and crystal-clear details are required," said Clinton Wilhight, Senior Product Manager for NEC Display Solutions. "NEC is raising the bar in the digital signage industry. Its professional-grade LCD panel and components are industry hallmarks. They give our customers great confidence in NEC's renowned reliability in commercial applications."
The new NEC MultiSync LCD5220 is expected to be available in coming April 2008 for about $8,150.