The leading provider of innovative LCD displays and a diverse line of projectors, NEC Display Solutions of America has announced its new NP41 and NP61 digital mobile projectors, which designed for simple use in corporate and educational environments.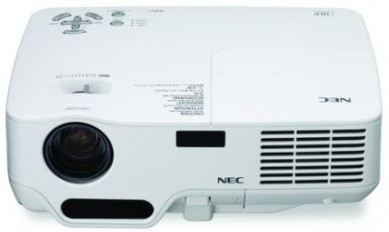 "The NP41 and NP61 projectors provide the powerful features required by mobile users while remaining lightweight and cost-effective," said Rich McPherson, Product Manager at NEC Display Solutions. "Their automatic features deliver the technological innovation expected of NEC products, delivering bright and brilliant images."
Features Of NEC NP41 And NP61:
2300 lumens (NP41) ; 3000 lumens (NP61)
1600:1 contrast ratio
XGA 1024 x 768 resolution
Lightweight at 3.5 lbs
BrilliantColor technology with 6-segment color wheel, which dramatically increases system brightness and color saturation
AutoSense, which intuitively syncs the projector with most computer signals and features one-touch optimization
15-pin RGB, RCA, S-Video input connectors and audio input
HD compatibility
ECO Mode technology, which increases lamp life by up to 40 percent for up to 3500 hours
Quiet operation at less than 32dB
The new NEC NP41 mobile projector is expected to hit the market in October for $999, and the NEC NP61 will be ship in coming September for $1399.