For game consoles such as Sony Playstation 3, Nintendo Wii, Microsoft's Xbox 360 that mostly featured with only component video output, trying to connect them to a standard VGA monitor is almost impossible due to different standard of physical connectors. Now with HD (High Definition) X2VGA 2 Transcoder developed by Neoya, users no longer need to scratch their head to find out suitable interface to tie them together, but also able to enjoy full HD 1080p great multimedia experience on conventional VGA monitor screen.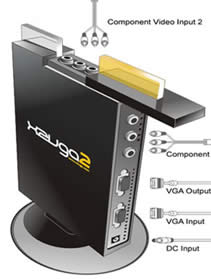 Basically the VGA Transcoder will convert the video output signal from game console to something that can be recognized by PC monitor and eventually scale up its capability to support HD resolution video games from gaming console. As compared to its previous X2VGA, the second generation X2VGA 2 is claimed to be able to perform better in terms of compatibility with different gaming consoles while providing dual independent input ports and PC pass-through feature so that users can share and switch between both PC and gaming consoles conveniently by pressing a single button. That is not all, the transcoder also provides LED display indicating current display mode either in 480i/p, 720p or 1080i/p HD resolution.
Priced at $59.95, the VGA Transcoder is already available in comercial market and it is such a good deal considering the flexibility that can bridge the gap between new gaming consoles and conventional VGA monitor system.