The leading provider of technologically innovative, branded networking solutions, NETGEAR, Inc. has announced the launch of its two new products – NETGEAR Internet TV Player (ITV2000) and NETGEAR Digital Entertainer Elite (EVA9150), which enable users to enjoy the world of Internet videos and digital entertainment content on their HDTV, aiming to enrich your TV entertainment experience.

"Internet video consumption is at an all-time high," said Vivek Pathela, NETGEAR's vice president and general manager of home/consumer products. "Just in the month of October 2008 alone, comScore estimated that almost half of the total U.S. population viewed more than 13.5 billion online videos. That's a large number of Internet videos that are viewed mostly on PCs, even though many people would rather watch them on their TVs."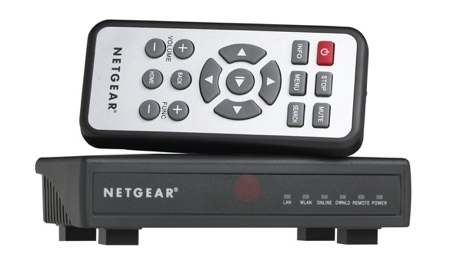 Highlights of NETGEAR Internet TV Player (ITV2000):
Watch live Internet TV channels from all over the world
Browse popular video Internet video sites including BBC.com, CNN.com, ESPN.com, EuroSport.com, NBC.com, PGATour and TMZ.com, as well as video powerhouses YouTube, Google Videos, Yahoo Videos and MetaCafe
Groove to your favorite music videos
Superior VTap video search capabilities enable the intelligent search of Internet videos, including targeting video sites by country, topic of interest, person or popular website
Catch up with TV and videos from your home town or country when you relocate
Plug in USB drive and enjoy your photos, music as well as videos on your TV
Connect to the Internet and go, without the need of a computer
Use bookmarks to get right to your favorites
"Our new family of Internet-connected set-top products will, for the first time, enable users to benefit from viewing the broadest spectrum of Internet videos and digital content on their HDTVs, in the comfort of their living rooms," added by Pathela. "We're offering a diverse line-up of networked entertainment products designed to suit the needs of various connected lifestyles, from the Internet family to the serious media enthusiast."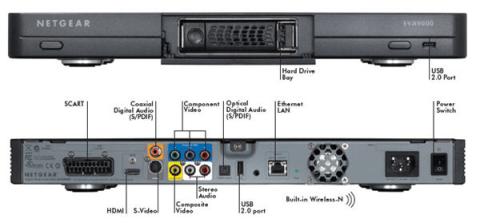 Highlights of NETGEAR Digital Entertainer Elite (EVA9150):
Play files including video, MP3s and digital photos from your PC, Mac or network attached storage (NAS) device to your HDTV
Three of NETGEAR's exclusive RangeMax internal metamaterial antennas and Dual-Band wireless 802.11n ensuring the best wireless performance
Streams media directly from the Internet including YouTube, Internet radio, Flickr photos, RSS and podcasts
Automatically finds all digital media files on your home network and organizes them into an easily accessible library
Includes a 500GB hard drive for extra storage of movies, photos and music
Get instant access to content on a USB flash drive, digital camera, iPod or other USB storage device via 2 USB ports
Enjoy full HD up to 1080p when playing back Windows Media Video 9, H-264, MPEG-2 or MPEG-4 files
Automatically up-converts videos and photos to full 1080p HD resolution via HDMI output
Plays unprotected DVD images stored on your PC, Mac or NAS including menus, subtitles and special features
Easy playback of Windows Media DRM (WMDRM10) protected content from major online services
'Follow Me' feature allows you to pause a song or video in one room and resume it in another room (for use with two or more Digital Entertainer Elite units)
Simple wireless connection at a push of a button with award-winning Push 'N' Connect feature using Wi-Fi Protected Setup (WPS)
Energy-efficient power supply and automatic power-saving mode consume as little as 0.01 Watts
The new NETGEAR Internet TV Player (ITV2000) with a simple remote control is expected to hit the market in early Summer 2009 for $199, while the NETGEAR Digital Entertainer Elite (EVA9150) will be available in coming February for $399.