The leading company in innovative, ultra-high performance and high reliability memory and computer components, OCZ Technology Group has announced its new OCZ Core Series SATA II 2.5″ Solid State Drives (SSDs), which the company claims as the world's first truly affordable high-performance SSD for consumers at price points less than 50% of comparable high performance SSDs, featuring incredible 120-143Mbs read speeds and 80-93Mbs write speeds, along with seek times of less than 0.35ms.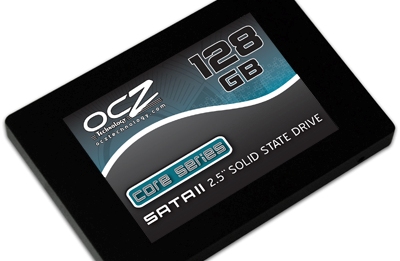 "SSDs offer higher performance, reliability, and energy efficiency than conventional HDDs but the cost variance has limited adoption of vastly superior SSD technology, until now," said Ryan Petersen, CEO of OCZ Technology. "It is our mission to deliver the highest performance products to consumers at reasonable prices, and with the release of the Core Series SSDs we have done exactly that."
According to the company, "Perfect for notebooks, the Core Series is ideal for energy-efficient mobile computing to extend battery life, increase access time, and provide a durable alternative to conventional hard disc drives with superior shock resistance. High capacities and low power consuming NAND flash technology provide the necessary performance and battery life boosts generated by the proliferation of mobile gaming and new ultra-thin laptops. With fast access and seek times combined with excellent reliability, the OCZ Core Series SSDs are the answer for consumers demanding this latest storage technology."
The latest OCZ Core Series SATA II 2.5-inch SSDs that incorporate excellent 1.5 million hour mean time before failure (MTBF) and coming in capacities of 32GB, 64GB and 128GB will be available soon for $169, $259 and $479, respectively.