The manufacturer of speaker systems, Altec Lansing has recently introduced a new portfolio of high-end audio systems for the home theater, the Altec Lansing PT8051 and PT7031 that focus on design and wireless surround sound for flat TVs. As you see in the photo, both wireless audio system take the form of nice looking bar-style speakers which aimed to match the look of flat panel TV.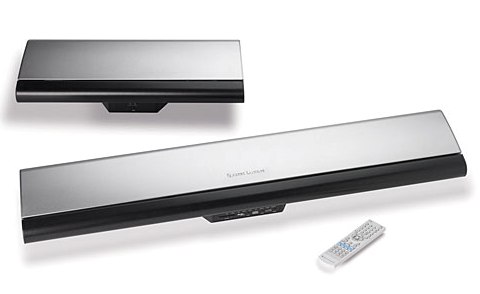 "While digital audio plays a central role in homes today, the majority of systems are difficult to set up, involve a web of wires and lack designs that consumers want to showcase in living spaces," said Robert Heiblim, senior vice president of Marketing for Altec Lansing. "Altec Lansing's new home theater products provide the convenience and simplicity of wireless, without compromising great sound or designs that truly complement home decor."
According to the company, the two-speaker PT8051 system provides surround sound experience through left, center and right channels within one front speaker as well as left/right channels included in a rear wireless speaker, while the PT7031 uses virtual speaker technology from Dolby Labs to give 5-channel surround.
The Altec Lansing Powered Theater PT8051 and PT7031 will available in coming August 2007 for about $1000 and $600.