The US company, Apple has recently announced its new iPod Touch. Here's more details and specifications for the iPod Touch. iPod Touch measures only 8mm thick, the latest portable media player with 3.5 inch touchscreen display (480 x 320 resolutions), album cover flow, YouTube built-in and Wi-Fi connectivity. Besides, the iPod Touch also features a new application which called as iTunes Wi-Fi Music Store, allowing the users to search, previewed and buy songs wirelessly from iTunes. Furthermore, this new application will also come to Apple iPhone in coming late September as a free software update.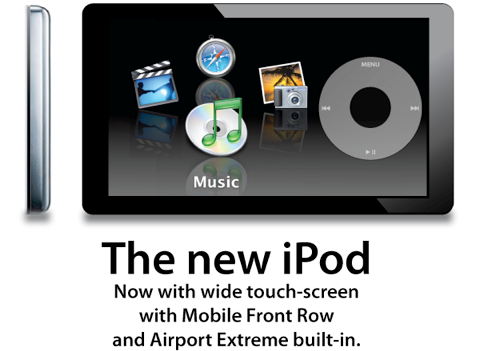 "The iPod touch is a landmark iPod, ushering in a whole new generation of features based on its revolutionary multi-touch interface and built-in Wi-Fi wireless networking," said Steve Jobs, Apple's CEO. "People are going to be amazed at how thin it is and how much it does."
According to the company, the new iPod Touch can support up to 22 hours of audio and up to 5 hours of video playback, and even features the Safari web browser. "Wi-Fi can be challenging anywhere in between your home and your office," said Steve Jobs. "You go to a hotel and you have to pay and login. You go to an airport, you have to pay and login. If you can't do that, you can't get on most networks, so you can build in the hardware but you can't get the network. So we're going to add the Safari Web browser so you can view all those login Web pages and login into any network."
Besides, Apple is stop the production of the 4GB iPhone and dropping the price of the 8GB iPhone to $399, $200 cheaper than before. It's a bad news for people who already bought Apple iPhone. In addition, the company also announced the release of its new iPod Nano and new iPod Classic. Both models will be available in this month.
The new iPod Touch that available in 8GB and 16GB version will hit the market later this month for $299 and $399 respectively.
Update: iPod touch 2G