ASUS, the leading company in the new digital era has introduced its new ASUS SDRW-08D1S-U vertical external DVD burner. The burner has designed with user-friendly software that allow users to easily burn discs, allowing users to simply drag and drop data into thumbnail layout when burning documents or media into a disc.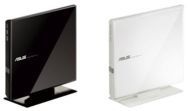 The burner also incorporates the Disc Encryption technology that allows users to protect an entire disc with password or partial encrypt the contents of the disc with 128-bit encryption. Beside that, it also includes Turbo engine that able to provide the highest speed of read and write data.
Other Specifications of ASUS SDRW-08D1S-U as below:
Dimensions (D/H/W): 156.4 x 140.8 x 21 mm.
Weight: 412g  or 435g with stand.
Color: Available in Black and White.
Random access time: DVD 150 ms and CD 130 ms.
Write: DVD+/-R, DVD+/-RW, CD-R, CD-RW, DVD-RAM.
Read: DVD-ROM, DVD-R/RW, Photo CD, CD-DA, CD-Extra, CD-Text, CD-R, CD-RW, DVD-RAM.
Write Speed: DVD+R(SL) 8X (CAV) ,  DVD-RW 6X (ZCLV), DVD+RW 8X (ZCLV), DVD+R (DL) 6X (ZCLV),CD-R 24X (ZCLV) , CD-RW 16X (ZCLV)  and DVD-RAM 5X max.
Read Speed: DVD-ROM (SL)(DL) 8X max (CAV), DVD+R/RW 8X max (CAV), DVD+R(DL) 6X max. (CAV)  and CD-ROM/R/RW 24X max. (CAV) DVD-RAM 5X max.
Power Supply: Power from the USB port of the users' notebook or desktop.