The leading company in the new digital era, ASUS has introduced its new, compact and high quality audio product – ASUS SP-BT23 Bluetooth Speaker, which the company describes as a "Eee" speaker that able to embody the three 'E's of "Easy to Carry", "Easy to Share" and "Excellent Audio Quality".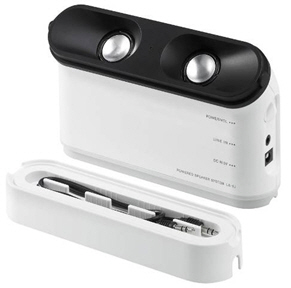 This latest Bluetooth speaker is fully compatible with any wireless device equipped with Bluetooth A2DP (Advanced Audio Distributed Profile) profile . In addition, the portable speaker also includes an analogue audio line-in jack with an integrated audio wire in the cover for quick input access.
According to the press release, "With an audio output power of dual 2W speakers and a frequency response of 150Hz ~ 20KHz, the SP-BT23 provides premium stereo quality sounds to suit your every audio need. Working hand in hand with the uniquely shaped design, users will be able to utilize its two acoustic modes which are easily accessed via a switch for different audio options in various positions. Additionally, the speaker unit is equipped with a cover design that helps protect the speakers from dust and damage."
The new and stylish ASUS SP-BT23 Bluetooth speaker measures 170(W) x 123.5(H) x 54(D) mm and weights just 400g, but no words on its price and availability yet.