The leading supplier of Bluetooth peripheral devices worldwide, BlueAnt Wireless has launched its new voice-controlled Bluetooth headset using Sensory's revolutionary BlueGenie voice interface – BlueAnt V1, which the company claims as the first stand-alone headset with Bluetooth v2.1, and the first ever Bluetooth headset with true VUI (voice user interface).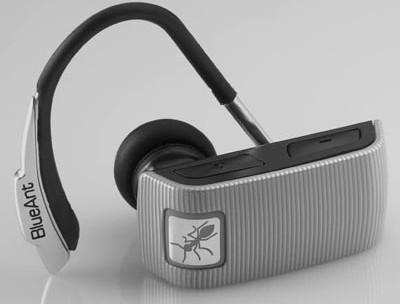 "Sensory's BlueGenie Voice Interface revolutionizes the Bluetooth headset by simplifying the user interface, providing a safer hands-free experience and enabling more functions with easier accessibility," said Todd Mozer, CEO of Sensory. "The BlueAnt V1 works great right out of the box and is the easiest to use headset with more and safer features than any other Bluetooth headset on the market."
According to the release, "Users of the BlueAnt V1 will no longer deal with lengthy or confusing button pressing to access functionality. Instead, the V1 can be controlled with simple phrases like "Pair Me," "Call Home," "Call Favorite," "call GOOG-411" and "Accept or Ignore Call." When it comes to checking headset status, it will not be necessary to interpret confusing beep sequences or LEDs. BlueGenie's voice synthesis capability enables the V1 to speak back to the consumer, letting them know device settings including successful pairing, battery power level, connection status, etc."
In addition, the new BlueAnt V1 also features Voice Isolation Technology that provides outstanding noise suppression, wind noise reduction as well as echo cancellation.
"We were pleased to team with Sensory on the V1 to be first to market with a voice controlled Bluetooth headset," said Taisen Maddern, CEO of BlueAnt. "We believe the V1 will set the bar for the industry in terms of headset ease of use, form and functionality."
The innovative BlueAnt V1 voice-controlled Bluetooth headset that able to support up to 5 hours of talk time or up to 200 hours of standby time is now available for about $130.
Watch video presentation of the BlueAnt V1 voice controlled Bluetooth headset below.