The award-winning developer of networking, broadband, digital electronics, voice, data and video communications, D-Link has unveiled its new stylish and compact 7-inch USB-powered LCD monitor (800 x 480 resolution with both landscape and portrait modes) designed for multi-tasking PC users. Dubbed as D-Link SideStage, it's intended to be a secondary monitor to display instant messaging, watch videos, conduct video conferencing via webcams, display Yahoo Widgets and Microsoft Gadgets as well as house common tools from programs such as Adobe PhotoShop.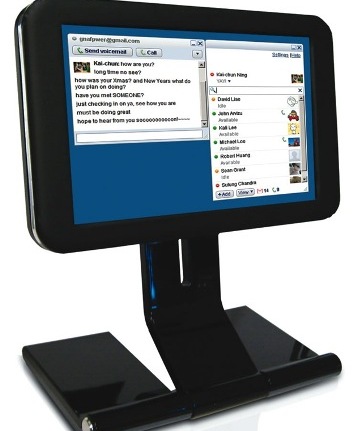 "This latest addition to our family of digital home solutions is designed to add productivity to PC users while providing a convenient and friendly way to view smaller applications," said Steven Joe, president and CEO, D-Link Systems, Inc. "The SideStage solves the problem of needing a bit more screen space, providing quick access to commonly accessed applications hidden behind larger Windows on the desktop."
The new D-Link SideStage 7-inch USB-powered LCD monitor that measures 7 x 4.6 x 0.75-inches and weights just 1.34 pounds is expected to be available later this year but the pricing has yet to be announced.