Searching a portable and compact burning device for copying DVDs or CDs? The provider of high quality and user-friendly duplication systems, EZ Dupe has taken care of your disc copying need with its new DVD Coach which the company claims as the world's first ultra slim portable DVD/CD lightscribe duplicator with two disc drive trays, allowing you to copy DVDs or CDs without the need for a computer.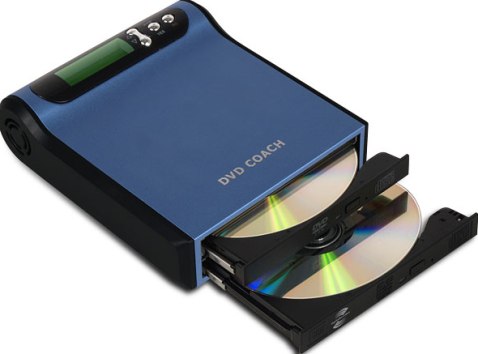 Key Features Of New EZ Dupe DVD Coach:
Stand-alone, 1 to 1 DVD (8x) / CD (16x) Duplicator
External USB 2.0 LightScribe DVD+/-R (8x) Drive
Includes EZ Dupe's LightScribe Suite
Audio CD Player Featuring Program / Repeat Mode
Plug and Plug with LCD Panel
Create Personal Audio CDs with the Track Editing Function
Supports Windows 98SE/ME/2000/XP/Vista
User Friendly Operation
The new EZ Dupe's DVD Coch stand-alone disc duplicator which weights only 3 pounds is now available for about $450.