With the megapixel counts on digital cameras and video camcoders continue to rise, the demand for extra-high storage capacity memory card has reached a high height and greatest size it has ever been. Recently, GreenHouse presents its all new SDHC (SD High Capacity) memory card. This SDHC card can stores information, data, media, music, videos, and whatever files, for up to 8 GB and the company has named it GreenHouse (GH-SDHC8G6M) SDHC card, while the 4GB version as (GH-SDHC4G6M) SDHC card.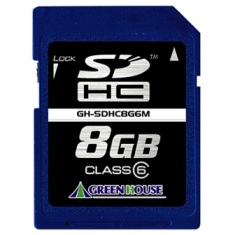 The 4GB or 8GB GreenHouse SDHC card will provide plenty of space for even the most avid dSLR user. In addition, you also no need to worry about the storage capacity when taking photos during your vacation with this SDHC card. The "CLASS 6" (6M) of this SDHC card means class of transfer speed. Besides, the new GreenHouse SDHC card features 15MBps writing and 22.5MBps reading speed.
The 8GB version of GreenHouse SDHC card is selling for 37,800 yen and 22,800 yen for 4GB version. The GreenHouse SDHC memory card is expected to be on sale in Japan soon.