Wanna stay connected with Facebook, Pandora Internet radio and Snapfish, as well as enjoy your music and pictures from home networked PC? The world's largest technology company, HP has came up with its new category of web connected screens – HP DreamScreen, which transforms social media and web information into a consumable, bite-sized device, bringing photos, music and video from PC into any area of the home via a wireless or wired network.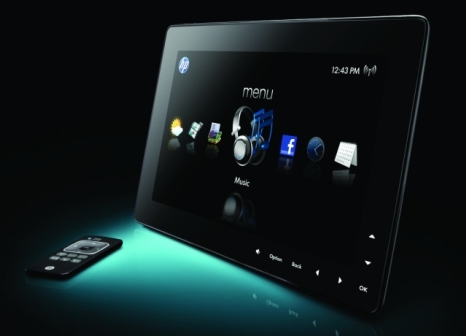 "Constant, always-on access to friends, information and entertainment is a common expectation today," commented Satjiv S. Chahil, senior vice president, worldwide marketing, Personal Systems Group, HP. "With HP DreamScreen, social media, web services and digital entertainment can be enjoyed in more areas of the home."
Features And Functions Of HP DreamScreen:
Piano-black finish with a vibrant, flush glass widescreen display
Connect to your wireless home network to access weather info, Snapfish and Facebook with built-in Wi-Fi 802.11 b/g
Keep up with Facebook's friends, photos, status updates and upcoming events
Listen to Internet radio from Pandora or HP SmartRadio
Integrated alarm clock and weather functions enable users wake up to music and get a 5-day forecast with one glance
2GB on-board memory for storing photos, music and home movies directly on HP DreamScreen
Stream photos and music wirelessly by a simple "drag and drop" motion from your PC with included software
Easy access to information and entertainment with simple touch controls that are visible only while the border of the screen is touched, or use the included remote control for added convenience
Play a slideshow of your photos copied to HP DreamScreen or directly on popular memory cards formats
Digital content can be loaded and played using USB flash drive via USB connectivity
Built-in combo memory card reader, high-fidelity speakers and connections to accommodate headphones and portable speakers
Watch home movies and video clips in full screen
2 versions of HP DreamScreen – (10.2-inch; 800 x 480 pixels) HP DreamScreen 100 and (13.3-inch ; 1280 x 800 pixels) HP DreamScreen 130
"Pandora's listeners want to have access to their personalized stations on a variety of devices," said Jessica Steel, senior vice president, Business Development, Pandora. "The HP DreamScreen makes it fun and easy for listeners to enjoy Pandora throughout their homes."
The new sleek and stylish HP DreamScreen 100 is available now for $249, while the HP DreamScreen 130 is slated to be available later this fall for $299.