Joby, Inc. has debuted its new Gorillapod Video tripod designed specifically for mini and pocket-sized camcorders, which the company claims as the most adaptable on-the-go video tripod, made of anodized aluminum, capable of holding up to 11.5 ounces weight of mini camcorder or digital camera with video recording capability.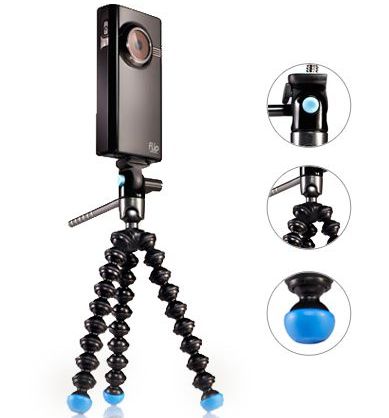 Features of Gorillapod Video:
Omni-directional versatile positioning video head with durable stability
Flexible legs with ultra-strong magnetic feet
Smooth 360 degree pan and 135 degree tilt
Quick-release plate for added convenient
"The power of Gorillapod Video is the ability to drastically improve the quality of the personal camcorder experience," said Forrest Baringer-Jones, CEO for Joby. "This device allows people to really step-up the quality of their video without the hassle of transporting something big and bulky. The beauty of the personal video recording movement is the ability to capture amazing moments in everyday life; the Gorillapod Video makes the video actually worth sharing without inciting nausea."
Joby's Gorillapod Video tripod which measures 1.2 x 7.2 inches and weights just 2.8 ounces is now available for around $30.