Looking for a new innovative notebook lock for your ultra thin laptop to protect against opportunistic theft? The global leading provider of smart made simple computing accessories, Kensington Computer Products Group has concerned of your needs with its new Kensington MicroSaver DS Keyed Ultra-Thin Notebook Lock (SKU K64590US), which designed for the ultimate defense of even the thinnest laptop, featuring ground-breaking ultra thin design and new stronger cable design aimed for greater security.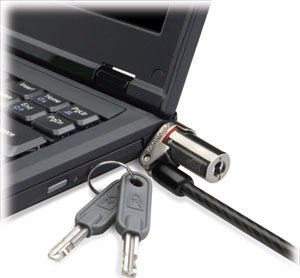 "Sensible business data protection starts with Kensington physical protection," said Rob Humphrey, Director, Security Business at Kensington. "Strategically outfitting employees with the new MicroSaver DS Keyed Ultra-Thin Notebook Lock will give IT managers the ability to proficiently and cost-effectively protect their investments in new ultra-thin notebooks. This lock has earned our Safe Premium rating – our highest level of security-to give businesses the absolute authority needed to safeguard the propriety and confidential information held inside these valuable and highly vulnerable assets."
Impressive Highlights Of Kensington MicroSaver DS Keyed Ultra-Thin Notebook Lock:
Technologically advanced disk style keyed locking mechanism
Rotating, slim lock head and pivoting cable allow users to easily connect to your notebook and position the lock
Super-strong carbon steel cable provides greater security in a 10%-thinner design
Patented T-bar locking mechanism delivers superior strength and theft protection
Rubber tie for cable cord management and portability
Compatible with most notebooks thanks to the Kensington Security Slot found in 99% of notebooks
The new Kensington MicroSaver DS Keyed Ultra-Thin Notebook Lock that includes 2 keys and 5-ft carbon tempered steel cable is expected to be available later this month for SRP of $49.99.