The leading designer, manufacturer, and marketer of NAND flash and DRAM memory products, Lexar Media has announced the availability of its new 2GB Shoot-n-Sync Wi-Fi SD-compatible memory card, the simple and convenient wireless solution for uploading digital photos to computers as well as sharing them via social networking and photo-sharing websites, including Flickr, Picasa, Facebook, Friendster and TypePad.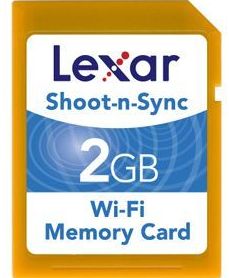 "Lexar is committed to delivering innovative products that enhance people's enjoyment of digital photography," said Manisha Sharma, Lexar director of product marketing. "The Lexar Shoot-n-Sync Wi-Fi memory card not only provides our customers the reliability and quality of Lexar memory, but the opportunity to enjoy a new level of wireless convenience — free from the hassles of cables and greatly simplifies transferring photos from camera to PC."
Highlights Of Lexar Shoot-n-Sync Wi-Fi SD-Compatible Memory Card:
Upload photos automatically, effortlessly and wirelessly
Instantly connects and wirelessly transfers photos via your home Wi-Fi network
Backup photos to your PC and easily share them on favorite photo-sharing websites
Works with SD-compatible digital cameras
No cables, no cradles, no hassles
Combines Lexar memory card technology with wireless technology from Eye-Fi
According to the release, "As an Eye-Fi Connected product, the Lexar Shoot-n-Sync Wi-Fi memory card features Eye-Fi technology and connects to Eye-Fi's web service to wirelessly and automatically upload photos from a digital camera to the web and to a computer. Eye-Fi is dedicated to building products and services that help consumers navigate, nurture and share their digital memories. After the brief initial installation of Eye-Fi Manager software on your PC, the card is ready to wirelessly download copies of any photos stored on it, automatically to your computer, as soon as it comes within range of your home computer's wireless network."
The new 2GB Lexar Shoot-n-Sync Wi-Fi SD memory card that compatible with both Windows and Mac OS is expected to hit the market in coming October, but no words on its price yet.