The global force and technology leader in home appliances, consumer electronics and mobile communications, LG Electronics and Netflix have announced the first Blu-ray player that will allow Netflix subscribers to stream over 12,000 choices of movies and TV episodes from Netflix directly to their TV sets without additional charge – LG BD300 Network Blu-ray Disc Player.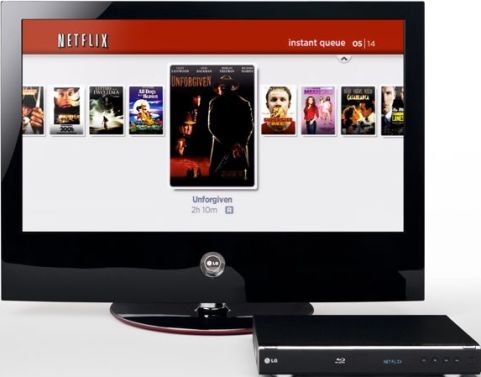 "As Blu-ray player sales are expected to triple in three years, consumers are craving content and seeking a premium home entertainment experience," said Teddy Hwang, President of LG Electronics USA. "The BD300 is another LG industry first and provides consumers with an advanced high-def disc player with unparalleled flexibility and networked access for services such as Netflix."
According to the release, "Consumers craving more content will appreciate the BD Live feature, which provides real-time interactivity for movie enthusiasts seeking extras, new previews or special content while BonusView provides picture-in-picture access to Blu-ray disc special features. To further personalize and simplify the home theater experience, the BD300 includes LG's SimpLink technology, which allows users to control similarly equipped LG TV and AV products via convenient on-screen menus or directly from the product itself."
"LG Electronics is establishing itself as the innovation leader in consumer electronics, combining the best of broadband and Blu-ray connectivity," said Reed Hastings, Co-Founder, Chairman and CEO of Netflix. "LG Electronics was the first of our technology partners to publicly embrace our strategy for getting the Internet to the TV, and is the first to introduce a Blu-ray player that will instantly stream movies and TV episodes from Netflix to the TV."
The new LG BD300 Network Blu-ray Disc Player is expected to be available this fall, but no words on its price yet.