LG has announced its new LG Vaccine USB flash drive which the company described as the world's first USB drive comes equipped with an anti virus and malware protection software, aiming to provide extra security through real-time system monitoring and hardware scans.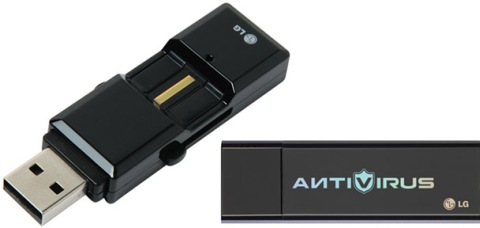 Once the Vaccine USB drive is connected to your PC or notebook, it will auto-run to deliver a real-time protection and its integrated software also can be regularly updated to ensure the USB provides maximum protection at all times, thanks to the automatic online update service.
"In today's high-tech world, computers are continually at risk from viruses and malware," said Fiona Landsberg, marketing manager, LG Electronics. "LG recognises that at times computers will not be protected as well as they should be which causes unnecessary risk for users. Our latest USB drive has been developed to give people that extra confidence when connected to the Internet, ultimately lowering the chances of infection."
In addition, LG also announced its new Biometric USB drive that available in capacities ranging from 512MB to 4GB. As its name implied, this USB stick features a built-in fingerprint recognition to minimise the risks associated with data loss and help ensure information is accessed only by the correct people.
The new LG Vaccine USB drive will be available in capacities ranging from 512MB to 8GB but no words on its price and release date yet.