The world leader in personal peripherals, driving innovation in PC navigation, Internet communications, digital music, home-entertainment control, gaming and wireless devices, Logitech has announced the launch of a new accessory for chat-oriented games and Wii Internet Channel – Logitech Cordless Keyboard for Wii, which is officially licensed by Nintendo.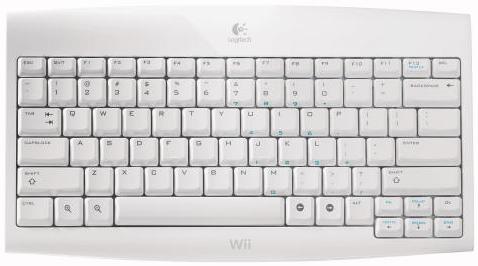 "One of the big reasons Wii has been so successful is the social element of the games and applications," said Ruben Mookerjee, Logitech's director of product marketing for gaming. "Our new keyboard helps families experience the Internet in the living room – and it will make chatting with online friends simple in popular games, such as Animal Crossing."
This wireless full-size QWERTY keyboard can perform from up to 30 feet (10m) from the Wii gaming console thanks to 2.4-GHz wireless technology.
According to the company, "The Logitech Cordless Keyboard for Wii provides special system keys – such as Zoom In/Out, Forward/Back, Quit and OK – making it even easier to use your favorite game console to communicate with your friends, surf the Web, read the news, check the weather, browse Internet videos and send e-mail."
The new and compact Logitech Cordless Keyboard for Wii will be available in coming August for about $50.