The market leader in personal peripherals, Logitech has announced the availability of its new G19 keyboard for gaming, which incorporates variety of extraordinary features, aiming to provide users an arsenal of advanced gaming technology.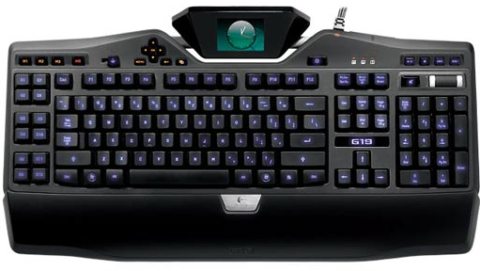 Highlights Of Logitech G19 Keyboard For Gaming:
Color GamePanel LCD – The tiltable (320 x 240 pixel) display shows unprecedented levels of information—both in- and out-of-game—including game stats, system information, VOIP communication data, video playback, image slideshows, and many other items.
User-selectable backlit characters – Personalize the keyboard to better fit with the rest of your computer and gaming equipment, and easily locate keys—even in the dark.
12 fully programmable G-keys with three macros per key – Program up to 36 single keypresses or complex macros; use the MR key to record new macros on-the-fly.
Multi-key input – Use up to five keys at once to perform multiple complex actions.
Game/desktop mode – Disable the Windows/Context Menu keys so they won't interrupt your game if pressed accidentally.
Two powered Hi-Speed USB 2.0 ports – Transfer data to and from peripherals—such as MP3 players and flash drives—while also charging battery-powered devices.
Intelligent cable management – Keep mouse, headset, and other cords out of the way by routing them through channels on the underside of the keyboard.
Instant media access – Use the convenient one-touch controls for volume and media playback.
The new Logitech G19 gaming keyboard that compatible with both Windows-based and Mac computers is expected to be ship in coming March for about $200.