The leading manufacturer of digital audio products and MIDI solutions, M-Audio has announced the launch of the redesigned MicroTrack II handheld digital audio recorder with 2-channel WAV (BWF) and MP3 recording/playback, a great tool for capturing live shows, field recording, songwriting, training, education, worship, and so much more.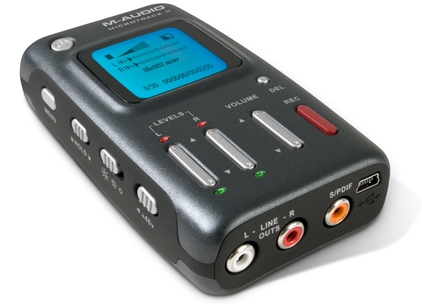 "Sound quality is the top priority in a handheld digital recorder," said Adam Castillo, M-Audio marketing director. "That's why the MicroTrack recorder is the only choice for top film and audio professionals—the recordings made with the MicroTrack rival those made on high-end audio interfaces. With the MicroTrack II we've taken all the input we've gotten from the field and engineered a unit that's virtually indispensable to many musicians and audio pros."
New Features And Improvements Of Upgraded MicroTrack II Recorder
Extended input gain range
Analog input limiter with bypass
48V phantom power
Faster data transfer rate via USB 2.0
Easily add markers to BWF files
Monitor S/PDIF input via headphones while recording
Seamless recording of files greater than 2GB
Customizable folders for organizing files
Hibernation mode
Backlight dimmer
Built-in CompactFlash speed test
The latest redesigned MicroTrack II handheld digital audio recorders that comes with an electret t-shaped microphone, carrying case, editing software, USB cable and headphone extension cable with label clip is now available for $399.