The global provider of IT network integrated solutions and semiconductor solutions, NEC has recently announced its new SX-9 supercomputer which the company claims as the world's most powerful supercomputer available in the market, aiming to challenge supercomputers from other IT giant including IBM and Cray.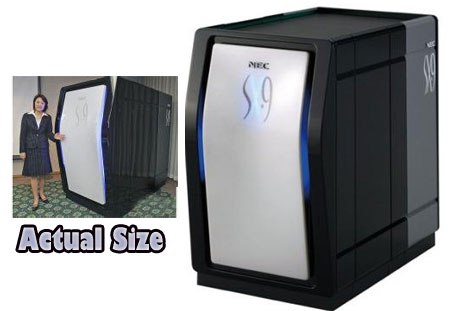 According to the company, the latest SX-9 vector computer will be about 13 times faster and consumes less energy than its SX-8 predecessor while this powerful supercomputer is built using a newly developed microprocessor that offers up to 102.4 gigaflops or 102.4 billion floating point operations per second on a single core. Furthermore, it can calculate a peak processing performance of 839 teralops – 839 trillion floating point calculations per second.
"NEC's vector supercomputers are being utilized in a wide array of fields, including advanced weather forecasting, aerospace, the environment and fluid dynamics, and have won praise from international and domestic universities and research organizations, as well as private corporations, for their high sustained performance and price competitiveness," according to Mr. Yoshikazu Maruyama, Senior Vice President and Member of the Board at NEC Corporation. "The SX-9 has been developed to meet the need for ultra-fast simulations of advanced and complex large-capacity scientific computing."
"This is a superb product," added by Yoshikazu. "We believe we are at the top in this genre."
The new NEC SX-9 Supercomputer which will be displayed at Supercomputing 2007, in Reno, Nevada from November 10 – 16 is available for rent at 2.98 million yen or about $26,000 per month.