A Korean company has recently announced its latest electronic dictionary – Nurian X10, the portable electronic dictionary which has dual LCD displays and enhanced multimedia functions. In addition, the main screen of X10 is an 4.1 inch 320 X 240 touchscreen while the outer screen is OLED and displays the time, name of songs and even your preset radio channel. With its 1600mAh battery, you can listen to MP3 music up to 11 hours , up to 5 hours for the video viewing and up to 14 hours of battery life for dictionary.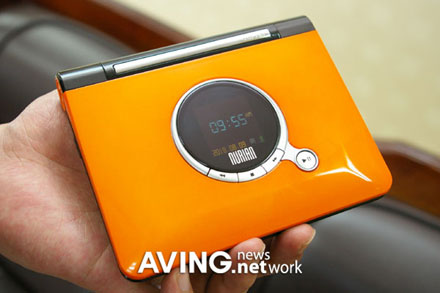 As you see in the photo, this device also boasts several hot keys/buttons for its additional non-dictionary functions including an MP3 player, FM radio, and voice recorder, allowing you to enjoy your audio entertainment without opening the dictionary. With support for XVid codec, this electronic dictionary can playback majority of video as well as audio formats.
The latest electronic dictionary also harps on four languages which are English, Japanese, Chinese, and Korea. Lastly, the latest Nurian X10 is available in orange and black colour for 319,000KRW or approximately $350.