In addition to CrossOver USB drive, OCZ Technology Group also announced its new Throttle eSATA drive. As its name implied, the OCZ Throttle eSATA drive integrates a primary eSATA interface that offers an incredible 90MB/second read speeds and 30MB/second write speed.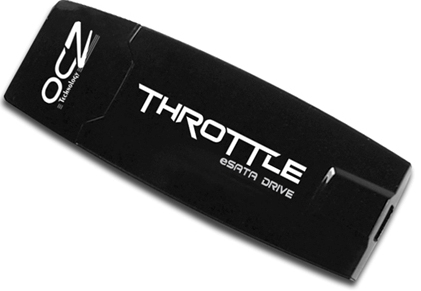 "We are excited to introduce the Throttle eSATA drive, which delivers many of the key benefits of external SATA including faster transfer rates and a cost effective expansion storage for high performance computing," said Eugene Chang, Director of Product Management for the OCZ Technology Group. "The Throttle is available in high densities and offers exceptional peak interface speeds for high performance notebooks, desktops, consumer electronics and entry level servers. In the case where an eSATA port is not available, the Throttle has the ability to connect via USB as well for ultimate flexibility."
The new OCZ Throttle eSATA drive will ship in 8GB, 16GB and 32GB memory capacities, but no words on the release date and pricing yet.