The global leader in innovative, ultra-high performance and high reliability memory and computer components, OCZ Technology Group has introduced its new Vertex EX 2.5-inch SSDs (Solid State Drives), which offer space and cost-savings with compact form factor, aiming to deliver reliability and performance for server environments and enterprise applications.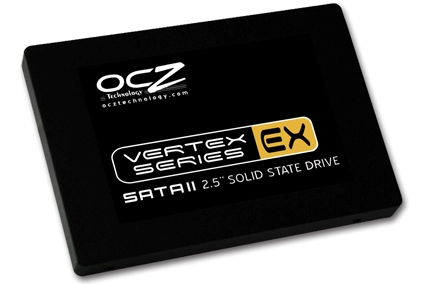 "The advantages of SSD's over traditional hard disc drives including performance, reliability, no cooling requirements, and lower power consumption, are all highly beneficial to enterprise applications and enthusiast consumers looking for the ultimate storage solution," said Alex Mei, CMO of the OCZ Technology Group. "The new OCZ Vertex EX is designed to deliver unparalleled performance and reliability, featuring the latest-generation architecture and SATA interface utilizing single-level cell NAND flash memory for unmatched overall system responsiveness and stability for enterprise grade server solutions."
Highlights Of OCZ Vertex EX Series SATA II 2.5″ SSD:
up to 260MB/s read speed and 210MB/s write speed
Shock Resistant 1500G
RAID Support
MTBF 1.5 million hours
Compatible with Windows XP 32/64, Vista 32/64, Windows 7 32/64, Mac OS X 10 and above
The new OCZ Vertex EX SSDs will be available in 60GB and 120GB capacities, but the price and release date have yet to be announced.