The innovative leader in the production of digital SLR and compact camera, Pentax has released its new basic camera named Optio E75. The Pentex Optio E75 is featured with a 10-megapixel sensor with 3x optical zoom for exceptional high-resolution photography.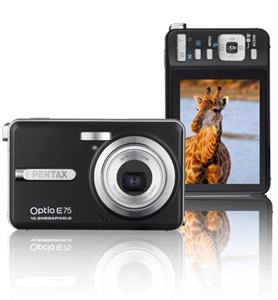 The preview LCD has been enlarged from 2.4-inch to 2.7-inch as compare to its predecessor E70. The camera has been integrated with several features such as full-auto scene mode, auto face and smile detection for enhance the user friendly enviroment.
Besides, it also supports light sensitivity by up to ISO 1,600 with 640 x 480 video recoding mode and comes with an AA battery.
The new Pentax Optio E75 is expected to start shipment by mid of June and is priced at $162 after the tax.