The manufacturer of consumer electronics product, Philips has officially announced its latest Aurea LCD TV, the successor to Ambilight. With an unique LED lighthing system that integrated into TV's frame, the Aurea LCD HDTV can provide warm shades of colour in response to displays, which aimed to bring you into a full emotional experience. Besides, this Philips 1080p TV which features an 3ms response time and 100Hz technology also using its Perfect Pixel HD Engine, aiming to enhance your HDTV experience.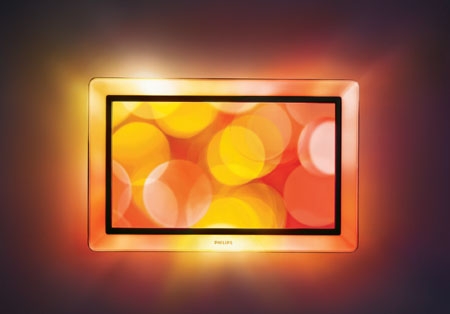 "The launch of Aurea here at IFA represents a major step forward in consumer electronics," said Rudy Provoost, Executive Vice-President, Royal Philips Electronics and Chief Executive Officer, Philips Consumer Electronics. "Product launches at past IFAs have been about simply presenting the next new technology. With Aurea, we are introducing a new consumer experience – one which brings together emotion, desire, technology, unique design and a profound application of consumer lifestyle thinking."
The first Philips Aurea model will be offered only in the 42-inch size but still have no words on its pricing yet. Hopefully, Philips will launch more screen sizes of its Aurea line with affortable prices.