The pioneer in networked digital entertainment, DVR and home media center technologies, SageTV has debuted its new Full HD capable networked media player, named as SageTV HD Theater, which allows users to enjoy virtually any home video, music or photo from their home network in Full HD on their HDTV, offering online video from YouTube and many other popular online video services, aiming to deliver the best overall digital entertainment experience.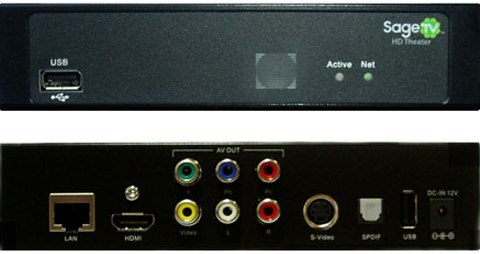 According to the company, "The SageTV HD Theater can also work as a whole home HDTV DVR solution by running SageTV Media Center software on any PC, Mac or Linux computer with a HDTV Tuner on the home network. With SageTV Media Center the SageTV HD Theater works as a high performance HD Media Extender with providing a rich, animated whole home DVR and Media Center experience with full season recording. All the video, music and photos as well as TV Tuners and Internet video from the SageTV Media Center system are available when SageTV HD Theater is used as a HD Media Extender."
Features of SageTV HD Theater:
Search for any content including music, photo and video from USB, home network or Internet
Works with flash or hard disk drive USB storage as well as UPnP, Windows and Mac compatible NAS or network storage
Access current weather and forecast with a touch of a remote button
Works with virtually any non-DRM video, music or photo format
The new SageTV HD Theater that really easy to setup is now available for about $200.