The South Korea's largest company and exporter, Samsung has announced the launch of its new 3D Ready PDP – PAVV Cannes 450, which dubbed as the first commercial 3D-ready Plasma TV boasting 1,000,000:1 contrast ratio, thanks to the Cell Light Control, 2008 Daylight technology and DNIe+ (Digital Natural Image engine+) chipset.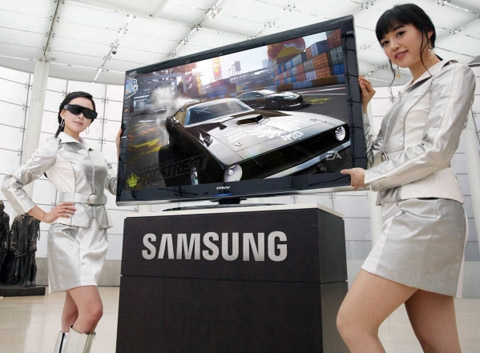 "Users could see the latest generation of Hollywood 3D movies by wearing a designated eyewear and play 3D games by just connecting 3D-only software to PCs," according to the spokeman of Samsung.
According to the company, the world's biggest interactive entertainment software company, Electronic Arts is going to provide a variety of 3D content for 3D Ready PDP TV.
The new Samsung Cannes 450 3D ready Plasma TV will be available for 1,750,000(KRW) or about $1,850 (42-inch version) and 2,500,000(KRW) or about $2,656 (50-inch version). Furthermore, Samsung plans to introduce the full HD 50-inch PAVV Cannes 550 3D-ready Plasma TV by March.